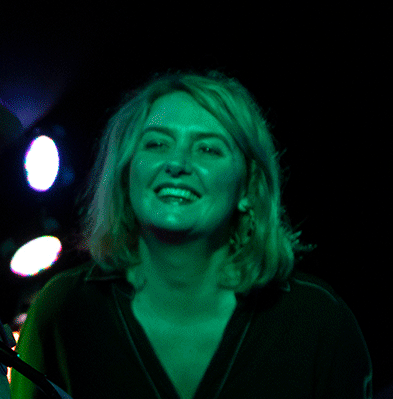 The first song I ever sang was "Which is the way to fairyland?"  It was grade 1 and I was 5; pigtails & a shy smile with, as my teacher put it, "the voice of an angel".
I can't imagine a life without music. It's my passion and my balm, the thing that drives me forward and satisfies my soul. Now that I'm a songwriter, it's an unbelievable feeling to reach out to people with my words and melodies and have them respond back to me.
I did all the usual things through school: choirs, musicals, Sunday church band. As a teenager I conned friends into letting me guest spot at their gigs - and I was hooked. Covers bands, wedding soloist, session recordings, you name it, I was doing it. Me and my guitar against the world. I spent a long time "10 feet from stardom" as a backing vocalist until I stepped up to front my own bands and duos.
It's crucial to have the right fit for any band to do well. After yet another covers band bit the dust in 2017, "The Lucky Lips Band" formed. Good times and I learnt lots! Especially about band promotion and management.
We were essentially a blues and RnB covers band. I had a stab at writing the odd tune, but it wasn't until 2018 that a switch flicked in my brain and the stories came flooding out.
A lot of bad stuff rained down upon me & mine in the decade that preceded 2019's EP "Talk the Talk", tragically, the best inspiration for a songwriter. While some of the subject matter may have been dark, it's not in my nature to be down for long and I love the variation of moods on that recording. Absolutely amazed & humbled by the reception it received as #6 on the Australian Blues charts and the accolades it achieved via the international "Unsigned Only" competition & the "CHAIN" awards.
The band went through quite a few changes in line up, even throughout our latest recording. As a result, our feel had matured so much and it was time to say goodbye to "Lucky Lips" and welcome a new name with a new album.
"The Turnaround" is a self titled 12 track recording and I'm so proud of it. I'm especially proud to have my son, Joel, on board as guitarist and engineer. With Darren Griffiths (bass) and Jasper Warmington (drums), we've barely scratched the surface of what we can do together. Man it's exciting!
So here we are in 2021. A new album to promote. Venues opening up again after the trials of COVID and so much more music to make. Can't wait to share it all with you. Thank you so much for coming on the journey with us over the last 3 years.
Love you lots
Donna